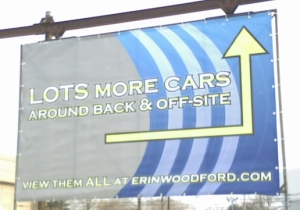 Banners & Sandwich Boards
Banners and Sandwich boards offer short term and or low cost solutions for messages that will change over time measured in days or months.
Banners normally are produced in 2,3 or 4 foot heights with variable length to fit the message or space limitations. Custom banners can be made to fit any requirement up to full building sizes that one sees covering new condos that are advertising for sale. They can be mounted on poles or buildings horizontally or vertically in the "flag mode".
Sandwich board typically have the same message if they are intended to be read by traffic coming in either direction or they can have a different message on either side if there are two messages desired for one price.
Audemars Piguet Replica Watches
We install these signs to the specifications of your company or to meet municipal codes. Download our brochure for text and sign types to fit most situations
'

Sandwich Board

wide format banner