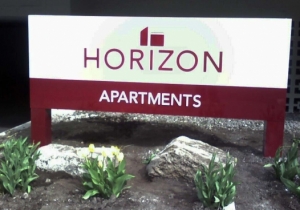 Architectural Signs
Architectural signage is generally designed by the firm at the time of building's construction and forms part of the image the client wants to convey. There are many diverse forms of signage. The most prevalent are:
• Ground level signs in metal, or wood
• Illuminated stand-alone letters on building faces
• Light Boxes above the establishment
• Directories for multi tenant campuses such as
industrial condos
In our gallery you can see more examples that we have done for customers.
Contact us for your specific requirements.
'

Illuminated sign

Now renting

Wooden double sided sign

simple sign

directory

light box